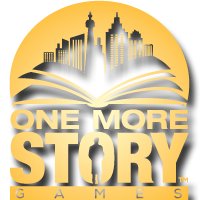 Expanding Catalogue
Play story games, set in your own backyard or far away locales, in the past, present and future. Sci-fi, horror, crime, historical... lots to choose from!
Stay tuned for new content to explore.
Uncover Secrets
Choose your avatar wisely. The story reveals itself differently whether you play as a nosy busybody, observant tough-guy private eye or sassy crime-fighting nun.
Play Solo or with Friends
Coming soon: play with friends around the world to navigate curious worlds: mystery, horror, sci-fi, post-apocalyptic, or even romance.
Write your Own StoryGames
Bring your characters to life. With our authoring tool, create rich and compelling stories, collaborate with others, get feedback, and get published on web, mobile and Facebook platforms.
We pay royalties, too!