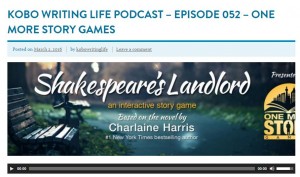 Kobo Writing Life interviewed Jean Leggett about the next frontier for storytellers – interactive fiction and interactive story games.
To listen to the podcast, visit http://kobowritinglife.com/2016/03/02/kobo-writing-life-podcast-episode-052-one-more-story-games/.
There have never been more opportunities for writers and storytellers than ever in the history of publishing, and Episode 052 of the Kobo Writing Life Podcast demonstrates yet another amazing opportunity that exists for writers.
KWL Director Mark Lefebvre interviews Jean Leggett co-founder of One More Story Games, a company from Barrie, Ontario that has developed a storytelling platform with a team of gamers, geeks, storytellers and programmers that creates a community for collaborative story game opportunities.
In the interview, Mark and Jean discuss:
Jean's background as a recovering Haiku addict and recovering stand-up comedian
How Jean's love of storytelling combined with her husband's similar love and a computer science background and background working in the games industry led to the formation of One More Story Games
The underlying concept of bringing more reading into the game space
How the experience of these games is similar to the "Choose Your Own Adventure" branching narrative experiences
StoryStylus – the story creation platform that helps creators break down the elements of story (such as people, places, things, relationships, conversation and dialogue, etc) that publishes to an interactive games marketplace
The fact that you don't need to be a programmer to be part of creating an interactive story game and how virtually any writer could participate in this process. (With a reminder that "Beta" means "patient, early adopters")
A writer, photographer and graphic designer in Tillsonburg, Ontario (Dan Wilkens) who is writing an 8 part series for One More Story Games and involving real people, such as the town's mayor as characters in the story
The manner by which a platform like this seems ideal for mystery stories, but the manner by which science fiction and adventure stories have already been built for it
The exciting announcement that One More Story Games will be working with New York Times bestselling authorCharlaine Harris (author of the Sookie Stackhouse – https://en.wikipedia.org/wiki/Sookie_Stackhouse – novels which have been adapted into the True Blue television series) to adapt her novel Shakespeare's Landlord
How the Charlaine Harris project will include a "behind the scenes" look at breaking the book itself into various plot points and how it was developed into the interactive storytelling experience (https://onemorestorygames.com/2016/02/16/lily-bard-online/)
The idea of making smarter more casual games available to the growing demographic of women consumers in their mid 30's who are interested in and playing these types of games
The concept of how a game like this demonstrates the progression of writer to narrative designer for a storyteller
Recommendations on how authors who are interested in exploring these opportunities might get started
To listen to the podcast, visit http://kobowritinglife.com/2016/03/02/kobo-writing-life-podcast-episode-052-one-more-story-games/.