For Immediate Release
BARRIE TECH FOUNDER HEADING TO COMMUNITECH BOOTCAMP

Barrie, ON, January 16, 2017:  One More Story Games is pleased to announce CEO Jean Leggett has been selected as one of 25 Canada-wide participants in Communitech's "Fierce Founder" bootcamp, vying for $100,000. Communitech is Canada's top industry-led innovation centre and is located in Kitchener-Waterloo, ON.
The Fierce Founder program is open to passionate entrepreneurs with a tech or tech-based idea at a MVP or pre-MVP stage. Startup companies must have at least 1 female founder. Twenty participants will receive hands-on mentorship from experienced entrepreneurs and experts as they build their business models and work toward refining their product offerings. At the end of it all, $100,000 in cash and prizes will be awarded. Winners will go on to a six-month Fierce Founders accelerator, receiving additional funding and intensive mentoring as they further develop their businesses.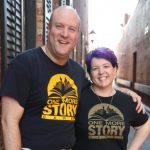 Ms. Leggett will be representing Barrie's tech startup One More Story Games and their authoring platform StoryStylus that simplifies the creation of story-based computer games. The first session of the bootcamp begins on January 24 and runs six days over two months. Fierce Founders is made possible through the support of Deloitte, BDC, Google and Thomson Reuters.
——–
Communitech is an industry-led innovation centre that supports, fosters and celebrates a community of nearly 1,000 tech companies. It supports companies at all stages of growth and development—from startups to rapidly-growing mid-sized companies and large global players. The Communitech Hub is 50,000+ square feet dedicated to world-leading collaboration and innovation. It connects key players—from startups and global brands, to government agencies, academic institutions, tech incubators and accelerators.
One More Story Games is an independent game studio in Barrie, Ontario. OMSG has developed StoryStylus, a simplified authoring platform for non-technical storytellers to create, publish and market story-based game content to web, mobile & Facebook. Writers publish games as solo creators or with a team, reducing the barrier to entry to the games industry. OMSG is working with #1 NYT best-selling author Charlaine Harris (36 million novels sold) to adapt her Lily Bard series into story-based games. The first installment is due to launch in October 2017.
# # #